Illegal workers arrested for overstaying their visas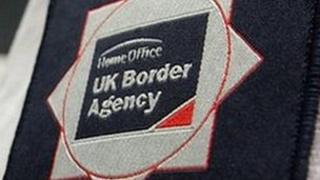 Two foreign nationals are facing deportation after being arrested by immigration officers at businesses in County Down.
Officers visited Babu's mini market in Gilford on Wednesday. They arrested a 23-year-old Bangladeshi man who had overstayed his visa.
A 25-year-old Bangladeshi man was arrested for overstaying his visa at Bangla restaurant in Bangor.
The businesses have been served with a penalty notices
To avoid fines of up to £10,000 per employee evidence must be provided that the correct pre-employment checks were made on the workers - such as seeing a passport or Home Office document.
Both men are being held in Home Office detention in Larne House, Larne while steps are taken to remove them to their home countries.
Mike Golden from the Home Office, said: "We are determined to crack down on immigration offenders and anyone found living or working here illegally is liable to be detained and removed."