House and cars targeted in sectarian attack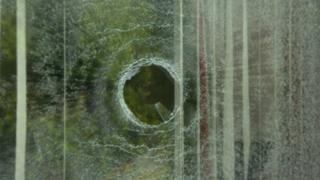 A house and a number of cars have been damaged in a sectarian attack in west Belfast.
The window of a house and four vehicles were targeted in Ringford Park in Suffolk at about 22:00 BST on Friday.
It is understood nationalist youths were involved in the attack in a loyalist area.
Political representatives claim up to 100 youths were involved. The police said they were treating the attack as a hate crime.
The police said they had earlier been called out to house party in Brooke Drive. Some youths had moved into the street and there were scuffles.
'Extremely worrying'
The police said there were between 50 to 100 youths in the area. They said no offences were noted by police in regard to this incident.
Sean Conlon, whose home was attacked, said he was watching television with his partner, when they heard a window smash and saw two sets of youths outside.
But he does not think his home was singled out.
"It appears that a crowd had come from the Stewartstown Road end and from the Black's Road end into the estate and just started - for no reason other than I would take purely sectarian reasons - attacking cars.
"The numbers of them. You are used to people walking by the odd Saturday night and throwing bricks or throwing bottles but fact that there was so many of them, this time, was extremely worrying."
Ruth Patterson of the DUP said there had been a history of attacks in the area.
'Orchestrated'
She described Friday night's incident as a "very unprovoked, sectarian hate attack on the people of Suffolk".
She added: "You cannot muster 100 youths at the drop of a hat, each and every one of them with a hurling bat in their hand. It was orchestrated and organised. They knew what they were doing."
Her DUP colleague Brian Kingston described the attack as "disgraceful".
He said residents were concerned about how long it had taken police to get to the scene and he had asked for increased patrols.
Sinn Fein councillor Matt Garrett also condemned the attacks as sectarian.
'Appalling'
"There are people working hard at the Blacks Road/Lenadoon/Suffolk interface to make sure that residents can get on with their lives free from this type of behaviour," he said.
"It is not representative of the people that live in the area and I would say a lot of those involved are from outside the area."
SDLP MLA for west Belfast Alex Attwood described the attack in Suffolk as "appalling" and said those responsible "must face the full rigours of the law".
Mr Attwood said community representatives in the area were "widely acknowledged as being some of the very best leaders in good relations, not least with the challenges and history of an interface".