Protest as Orange Order parade is stopped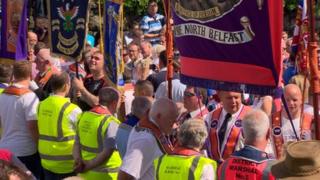 The Orange Order has held a protest against a decision to prevent it from parading past north Belfast shops.
The lodges wanted to walk past Ardoyne shops on Crumlin Road, an interface separating unionist and nationalist communities.
Five nights of rioting followed a decision to prevent three lodges from walking the same route on 12 July.
Thousands accompanied Orange lodges on Saturday's march, but the parade was halted by police on the Woodvale Road.
Marshals were again deployed to control the crowd and prevent a confrontation with the police. There was an hour-long protest before the Orangemen and their supporters dispersed.
It was the Order's third attempt this month to march along that route. The Order has said it will stage a protest there every week until it completes the Twelfth parade.
The Parades Commission, the body that adjudicates on contentious parades in Northern Ireland, has ruled against another application for next Saturday.
The commission's previous ruling, that the 12 July parade could pass the Ardoyne shops in the morning, but could not walk the same route in the evening, sparked anger and widespread protests from unionists.
The Orange Order subsequently said it was suspending its protest against that decision, but demonstrations and disturbances continued in some loyalist areas.