Armed robbery at south Belfast letting agency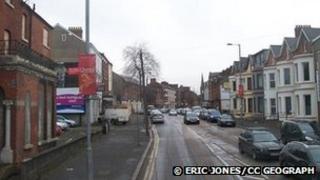 Three men have carried out an armed robbery at a letting agency in south Belfast.
Two of the men entered the agency on University Street at about 11:20 BST on Friday while the third man remained outside the building.
Both of those who went inside were wearing high visibility jackets and jeans and one was carrying a gun.
They stole money and fled on foot in the direction of Queen's University. Police have appealed for witnesses.
The first man was heavily built, approximately 5'8" tall, and is believed to be aged in his late 40s or early 50s.
The second man was thin and aged in his mid 30s.
The third man, who waited outside the agency during the robbery, had short dark hair.