Charlotte Murray: Police seek help to trace missing woman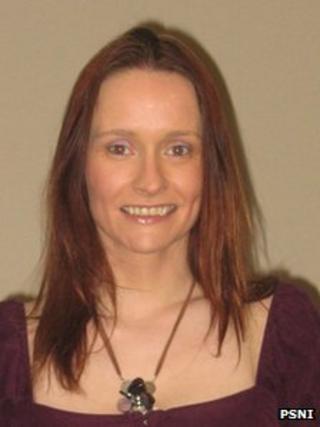 The police in County Tyrone are asking for the public's help as they try to find a woman who has not been seen by her family for more than 10 months.
Charlotte Murray, originally from the Omagh area, but who had been living in Moy, was reported missing in May.
Her family and friends had had no contact with her since November.
Her sisters, one of whom is her identical twin, appealed for anyone who knows of Charlotte's whereabouts to get in touch with the police.
"Charlotte is a free spirit who likes to do her own thing but this is out of character. She moved to Moy a few years ago and we were not in regular contact," said her twin sister Denise.
"All the family are worried that she hasn't been in contact with any of us. We are very worried. We want Charlotte to get in touch so that we know she's OK."
Charlotte is described as being 5 feet 4 tall, of slim build with blue eyes.
She is single and worked in catering.
PSNI area commander for Dungannon and Cookstown, Ch Insp Jane Humphries, said: "Despite several enquiries over the past two months, police have been unable to make contact with Charlotte. A previous appeal for information in May did not put her in touch with us. We are becoming increasingly concerned for Charlotte's safety.
Appeal
"We are releasing a photo of Charlotte along with posters and leaflets which will be used as part of our ongoing enquiries to locate Charlotte in Moy, Dungannon and further afield."
The senior officer said police wanted to make three appeals.
"The first is to Charlotte: if you see this or hear this appeal, please get in touch. Present yourself to police, at any station, so that we can establish that you are safe," she said.
"The second is to anyone who thinks they may have seen or spoken to Charlotte at any time since last October or November. We need to know when and where this encounter took place and what Charlotte was doing.
"Thirdly, we are appealing to anyone who knows where Charlotte is now or what might have happened to her. We need you to contact police for Charlotte's sake and for the sake of her family who are becoming increasingly anxious."