NIEA stop fuel waste polluting Cullyhanna south Armagh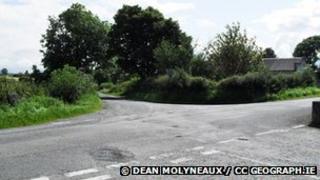 The Northern Ireland Environment Agency (NIEA) has acted to prevent dumped fuel laundering waste polluting a south Armagh river.
Two 1,000 litre containers were abandoned just off the Mullaghduff Road, Cullyhanna at the weekend.
When NIEA staff arrived, one container had been burned down to its frame.
The other had been overturned and some of the waste had spilled into a road gully with a small amount reaching the County Water River nearby.
Environment agency staff stopped the liquid leaking from the container and used absorbents to deal with material that had already escaped. The containers will be removed from the site later on Monday.
Environment Minister, Mark H Durkan said the discovery was "yet another example of the threat to the environment and the local economy" from organised crime.
"I encourage everybody to do everything in their power to isolate and help the authorities deal with the fuel laundering-gangs and the organised crime they represent," he said.