Castlederg march: Sinn Féin says it will re-route parade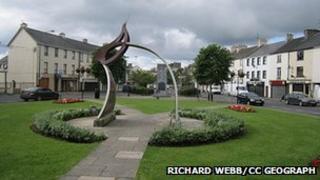 The DUP has said Sinn Féin's rerouting of a controversial parade is meaningless.
Sinn Féin had announced that it would re-route the parade it is holding in Castlederg, County Tyrone in August.
The march commemorates the death of two IRA men who died in 1973 when their own bomb exploded prematurely.
After unionists called for the parade to be banned, Sinn Féin said the parade would no longer pass the town's cenotaph or Methodist church.
Speaking after a meeting with the Parades Commission, DUP MLA Thomas Buchanan said that would not defuse the situation.
DUP minister Arlene Foster repeated her call to the Parades Commission to ban the 11 August parade.
The DUP said it is seeking a meeting with the chief constable to urge him to take action under legislation to stop the glorification of terrorism.
Speaking ahead of a meeting with the Parades Commission, Sinn Féin's Ruairi McHugh said: "Our initiative will consist of choosing to go along John Street which avoids passing the cenotaph and the Methodist church.
'Ethnic cleansing'
"On the back of this initiative, we wish to engage with all key stakeholders in relation to the issue of the town centre being designated as a shared space for all traditions, in this mainly nationalist town.
"There has been around 20 unionist parades through the town centre in 2013 so far without objection, we understand and accept people's Britishness- others need to understand and accept our Irishness."
Ulster Unionist leader Mike Nesbitt has also written a letter to the commission urging them "not to endorse terrorism" by allowing the parade.
UUP MLA Ross Hussey said Sinn Féin's offer to reroute the parade was "the party trying to justify the unjustifiable".
"They are trying to parade over the memories of IRA victims," he said.
"This situation has been choreographed by Sinn Féin and their proposal to re-route the IRA commemoration parade is part of that choreography.
"Sinn Féin knew right from the start that this parade would cause offence to the victims of IRA terrorism and the wider community.
"It is simply impossible for Sinn Féin to justify the unjustifiable. It is repugnant to hold a parade to celebrate the actions of terrorists and calls into question Sinn Féin's commitment to 'reconciliation'."