The 17-year-old friends who walked Ireland for charity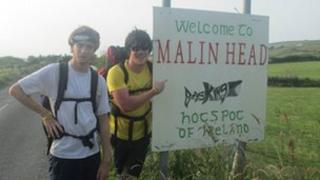 Two Belfast teenagers are safely home after walking 550 miles for charity - and their mothers say the experience has changed their personalities for the better.
Matthew Sloan and Josh Moore, both 17, are lifelong friends.
They were born two weeks apart at the Jubilee maternity unit at Belfast City Hospital.
Now the hospital's cancer centre stands on the Jubilee's old site and the teenagers used their summer holidays to raise money for the Friends of the Cancer Centre charity.
Their walk from Mizen Head - Ireland's most southerly point - to Malin Head - the point furthest north - was intended as a bit of fun in the school holidays.
'Apprehensive'
But inspired by Matthew's mum, a cancer nurse, the trip soon became a fundraising venture and the teenagers are more than halfway towards their £5,000 goal.
'We were a bit apprehensive because the boys had never been away without their families before," said Jacqui Moore, Josh's mum.
Matthew's mother, Fidelma Connor, felt the same at first, but said she eventually thought: "Well, the boys are sensible, and Ireland's not that big."
In fact Jacqui drove to County Clare to give her son eye drops when he refused to cut the walk off to see a doctor.
Josh said: "I have really bad hay fever and I just kept rubbing my eyes - and I had contact lenses in, so that exacerbated things.
"I eventually got dirt on my hands, rubbed my eye again and got an eye infection. That led to me not being able to see.
"I was walking on for like 20 miles a day, half-blind."
But driving to a doctor would, he said, "defeat the purpose of the walk".
Jacqui said: "He told me he had pus in his eyes and I was like, 'oh my God, he's going to lose his sight'."
Costs
That emergency drive was not the only time Josh and Matthew saw family members on their trip.
The sixth-formers went out of their way at points so they could stay with relatives in Waterford and Donegal to keep costs down and spirits up.
But in County Kerry, they ran out of water and Matthew was tempted to drink from a river.
He said: "I wasn't aware there were no houses where we were going - I ran out of water with about six or seven hours of walking to go.
"Then I was looking at the river going 'Josh, can I drink this?', I was ready to take that risk."
At this point in the teenagers' interview with BBC Radio Ulster, Fidelma's brow was furrowed as she and Jacqui discussed the various illnesses Matthew could have got from the river water.
Both mums relaxed again when talking about the positive effects on their sons.
"I can see a bit of independence," said Jacqui.
"He's only been home a few days, but already Josh is getting out of his bed… Let me say he's very happy at the computer, he's very happy staying up until three or four in the morning and lying in bed half the day like most young men during the summer.
"Now he's getting up out of bed and going and actively doing things!"
The teenagers laughed.
"It just seems so easy now," said Josh. "Walking the length of Belfast - well, that's nothing."