Lord Mayor makes Sinead Morrissey Belfast's first Poet Laureate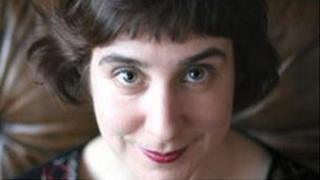 Belfast is to get its first poet laureate as part of the Lord Mayor's plan for the city.
The appointment of award-winning poet Sinead Morrissey was announced on Wednesday by the Lord Mayor of Belfast, Mairtin Ó'Muilleoir.
Dr Morrissey said although she was interested in politics she does not regard herself as either a nationalist or a unionist.
She said loves Belfast and wants her ashes scattered on Belfast Lough.
As Poet Laureate, Dr Morrissey will engage the public in poetry, through a series of events, community outreach to art groups, language organisations and minority groups.
She has also been commissioned to produce a series of poems about Belfast.
"Belfast is a city with an extraordinary literary tradition, especially in relation to poetry," Dr Morrissey said.
"I am therefore hugely honoured to be appointed Belfast's first Poet Laureate, and I am excited to celebrate and explore further both the city and poetry in the year ahead."
'Relentlessly positive'
As part of his vision for the city's future, Mr Ó'Muilleoir has pledged to remain relentlessly positive about Belfast, its people and its future.
"I do believe that the arts are the heart and soul of Belfast that the Lord Mayor can symbolize what the people of Belfast would like to achieve and like to do," he said.
"One of the ways we do that is through the arts: Belfast without Van Morrison would be unimaginable, Belfast without Michael Longley wouldn't be the same. We need the artist to speak for the future of Belfast."
Mr Ó'Muilleoir also has his sights set on improving investment in the city.
"One of the things that I promised to do was to bring a focus on those who are creating wealth, those who are creating jobs, apprenticeships," he said.
"If we emphasise what unites us rather than divides us I think we can make progress on difficult issues. What it takes is goodwill. The power and potential of Belfast can only be realized if we stand together."