Margaret Thatcher Maze prison escape shock revealed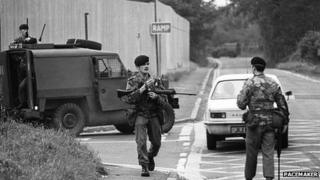 Former Prime Minister Margaret Thatcher declared it was "even worse than we thought" after learning about the Maze prison escape of 38 IRA inmates.
She wrote her thoughts across the top of a secret government document five days after the September, 1983 escape.
The Northern Ireland Office (NIO) report has now been released by the National Archives.
One prison officer was killed and another seriously injured in the biggest prison break-out in UK history.
In the immediate aftermath, strongly-worded advice sent by telegram from the Foreign and Commonwealth Office to its mission and dependent territories stated: "You should take every opportunity to limit the propaganda benefit the IRA will reap from the outbreak... the Government regard the outbreak most seriously."
The document also said "the Provisionals clearly regard the latest escape as a propaganda tonic for their flagging morale" adding that the "PIRA and their sympathisers overseas will be doing all in their power to reap as much propaganda benefit from the escape as possible".
The prisoners used smuggled guns and knives to overpower staff before hijacking a food lorry that they used to drive to the main gate.
The paper restated the government's public pronouncements that security would not be breached again.
Recaptured
Security forces mounted a huge search operation in Northern Ireland within minutes of the escape from the prison near Lisburn, County Antrim. Ten prisoners were recaptured within the first few hours.
By the time that Mrs Thatcher was sent the document, 19 had been recaptured.
Northern Ireland Secretary James Prior, who had pledged the escapees would be "hunted down whether they are be in the north or the south of Ireland", had asked the Chief Inspector of Prisons Sir James Hennesssy to carry out an inquiry.
"It will be prompt, rigorous and searching," the document stated.
"Meanwhile you should restrict comment to the above while not commenting on the details of the outbreak or on speculation about lax security. The matter is in effect sub judice."