18 arrests in Coleraine connected to organised fights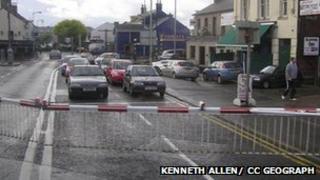 Police in Coleraine, County Londonderry, have charged 18 people in connection with organised violence in the town in June and July.
They face a total of 35 charges.
Operation Zinc was set up by police in July to crack down on pre-arranged fights a police spokesperson said.
Police received reports of multiple fights, mainly between men, that were taking place on Bridge Street, Railway place, Bushmills road and near a railway crossing.
Worry for parents
A police spokesperson said: "One punch attacks can kill and we will not tolerate fighting anywhere, let alone in the town centre."
SDLP MLA John Dallat told BBC Radio Foyle: "This has been going on for far too long.
"These people age from anything between 12 and 18 years old, if not beyond that. It has been a worry for parents over the summer holidays.
"Some people are too afraid to meet their friends down the street now and to describe these fights like something from the film Gangs of New York, is not an exaggeration.
"I think the motive is nothing more than the fact people have nothing to do. The power perhaps comes from mobile phones.
"Police certainly have a grip of it now" said Mr Dallat.
Police said Operation Zinc will continue in the area and arrests will be made where necessary.