Joseph Francis McCabe to stand trial accused of going on the run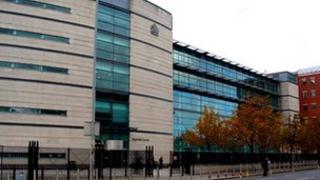 A sex offender is to stand trial accused of going on the run to the Republic of Ireland, a judge has ruled.
Joseph Francis McCabe appeared before Belfast Magistrates' Court charged with failing to notify police before he travelled outside the UK.
As a registered sex offender, he must inform police of his movements.
He is alleged to have gone missing in April, crossing the border with the intention of remaining there for a period in excess of three days.
McCabe, from west Belfast but with a hostel address in Belfast, was arrested the following month.
During a preliminary enquiry hearing at the court on Thursday he declined to give evidence or call witnesses at this stage.
The judge ruled he has a case to answer.
She granted a prosecution application to have the accused returned for trial at Belfast Crown Court on a date to be fixed.
McCabe was remanded back into custody until his trial begins.