Councillor calls for all-Ireland ban on aerosol string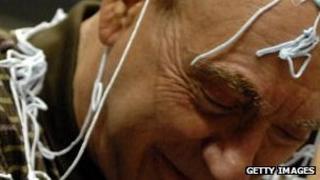 A councillor from County Fermanagh has called for aerosol string to be banned in the UK and Ireland.
DUP representative Bert Johnston said the string was "an eyesore and impossible to clean".
Mr Johnston said it was messy and difficult to remove from footpaths and walls.
Fermanagh District Council will debate Mr Johnston's motion to ban aerosol string on Monday night.
"I want people to enjoy themselves but I think the price is too high, for the mess it leaves behind in the community, after the event," he said.
"This is more colourful than chewing gum and more difficult to clean. I don't think we should have to live with that after a celebration."
Mr Johnston called on the environment minister to ban the children's product in Northern Ireland.
His negative feelings about the novelty toy came after it was used in his home village of Ballinamallard last month during Orange Order celebrations on 12 July.
"The village was left in a mess and it was very difficult to clean up, it takes a power washer to get rid of it," he added.
Mr Johnston said he hoped his call would influence a ban across the rest of the UK and in the Republic of Ireland.
He said this would prevent people from going across the Irish border to bring aerosol string back.
"I am confident we will get the motion passed at council next week," he said.