Ulster Bank's losses down to £329m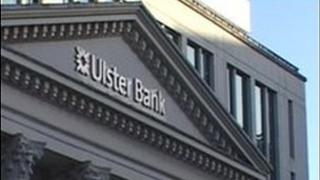 The Ulster Bank has made a loss of £329m in the first half of the year.
That is compared with a loss of £555m for the same period last year.
Its daily business performed a fraction better in the first half of this year, compared with the first half of 2012.
The reduction in their losses has been caused by having half the amount of bad debt to write-off. The bank said that was mainly as a result of improved payments of retail mortgages.
It said the number of people in the Republic of Ireland managing to make their mortgage payments had increased, for the first time since 2008.
But they also expect to begin legal proceedings against more people over the coming months if they do not keep up with their mortgages.
Ulster Bank is still the worst performing section of the RBS group.
But it did see a fall in 90-day plus mortgage arrears -the first quarter on quarter decline in arrears since the same period in 2008.
The bank is continuing to restructure and rebalance its accounts to try and improve its position.