Rare orchid discovered in Coleraine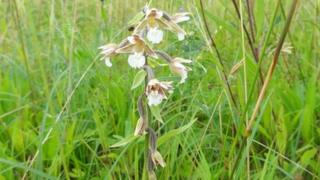 A rare orchid has been discovered in the grounds of the Causeway Hospital in Coleraine, County Londonderry.
The Marsh Helleborine was found in the meadow at the rear of the hospital in July while researchers were recording butterflies for the Big Butterfly Count.
The orchid has only been recorded at eight other sites in Northern Ireland and is legally protected.
The plant is a specialist species dependent on wet meadows and dunes.
Staff member Donna Rainey found the orchid.
"The presence of this very rare and special orchid is testimony to the quality of the site and is thanks to the proper management regime directed," she said.
The Causeway Hospital's grounds are home to butterflies, bees, moths, hoverflies, dragonflies and damselflies as well as many species of birds and bats.