Boiler upgrade scheme extended to 8,000 more homes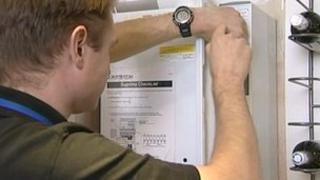 A scheme to enable householders to upgrade old boilers is to be extended to around 8,000 more homes.
Additional money from Europe will allow grants of up to £1,000 to help replace inefficient central heating systems with energy-saving alternatives.
The grants are available to households with an income of under £40,000 a year and with a system at least 15 years old.
More than 6,500 homes have already had new boilers installed under the scheme.
Department for Social Development minister Nelson McCausland said the scheme had been "hugely successful, with on average around 600 installations a month".
More than 70% of those with new boilers are also on lower incomes.
The additional money from the European regional development fund will increase the number of homes likely to benefit from 16,000 to 24,000.
'Failed to deliver'
However, Mark H Durkan of the SDLP, recently appointed as environment minister, said the scheme had so far failed to deliver to the people who need it most.
"Many people are being pressurised into paying upfront before they are given the grant which is often extremely difficult," he said.
"Furthermore, small businesses may be reluctant to take on the work if there are delays around money being paid."
But Mr Durkan said the scheme had "great potential".
"I hope the Department for Social Development can now implement the scheme in a way which delivers for those who need it most."