Man lives in Belfast zoo enclosure for children's hospice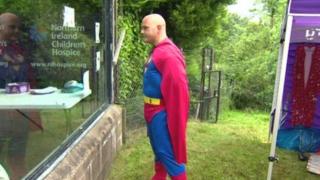 An unusual exhibit is currently on show at Belfast Zoo.
David Capper from Finaghy, south Belfast, or Zooperman as he prefers to be known, is spending five days and nights living in an enclosure at the zoo.
He is doing so to raise funds for the Northern Ireland Children's Hospice.
Mr Capper said he decided to undertake the unusual challenge after paying a visit to the hospice and seeing the work they carried out.
"A few weeks ago I got a tour through it and saw the work that was involved, not only in the hospice but what they do in the community," he said.
"I just want to help and raise money towards the great work that they do."