Eight police officers injured in Belfast bonfire trouble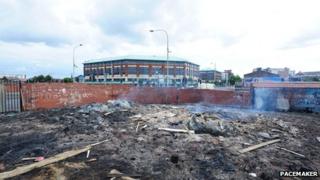 Eight police officers have been injured during trouble at an anti-internment bonfire in west Belfast.
Eight people were arrested following the disturbance in the Divis Street area on Thursday night.
Police were attacked by crowds throwing paint bombs, bottles and masonry.
Two police officers required hospital treatment for head injuries. A number of streets in the area were closed for several hours.
Police said that at about 03:00 BST on Friday, police were attacked by a man armed with a sword in the New Lodge area in north Belfast, during "continued disorder".
In a separate incident, two teenagers were taken to hospital after they were stabbed as they attended a bonfire in the Torrens Link area of north Belfast.
The 16-year-old boy's condition is described as "serious but stable". The 15-year-old girl's injuries are not believed to be life-threatening.
They said police fired two baton rounds in response to this attack.
Police said a "thorough investigation" was under way to "identify all those involved in the disorder".
The Sinn Féin MP for West Belfast, Paul Maskey, said that bonfires like the one in the Divis Street area "need to be left in the past".
"The majority of the community have moved on and see these fires as an excuse for anti-social activity including drinking, drug-taking and abusing residents," he added.
"They have nothing to do with commemorating internment or political struggle.
"At the same time there are a number of young people who do collect wood for these bonfires that are not involved with the more sinister, criminal elements.
"These young people need to be convinced that there are better ways to use their energies.
"Statutory bodies, local community and political representatives need to come together and ensure that everything possible is done to bring these destructive events to an end."