Eamon Brown 'hijacked car to get home'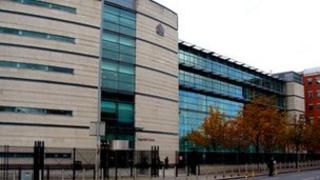 A 32-year-old man allegedly hijacked a car in an effort to get home, Belfast Magistrates' Court has been told.
Eamon Brown, with an address at a hostel in Verner Street, just off Belfast's Ormeau Road, is accused of hijacking the vehicle on Thursday.
A man who was in the passenger seat was pushed out of the car on Ormeau Road.
The court heard Mr Brown told police he was walking home in the rain when he saw a driver getting out of a car, having left the keys in the ignition.
It was further alleged that the accused "opportunistically" got into the car without realising there was still a passenger in it.
Resisting police
His defence solicitor told the court the incident was more akin to car theft, but a detective constable told the court the police and the hijacking victim had a different view.
Mr Brown is also charged with resisting police, drink driving, and driving without insurance or a licence.
The detective constable objected to a bail application, and outlined how police feared that if released, Mr Brown could reoffend, given the fact that he is on supervised parole for a previous offence.
He was refused bail and was remanded in custody to appear again on 27 August via videolink.