Police praise 'peaceful' Apprentice Boys parade in Londonderry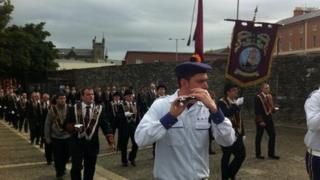 The police have praised those who worked behind the scenes in Londonderry to ensure the annual Apprentice Boys parade passed off without incident.
Thousands took part in the event which commemorates the 1688 Siege of Derry.
PSNI Inspector Trevor McKeown said participants and spectators alike had felt "welcomed in the city".
Apprentice Boys Governor Jim Brownlee said the local parades model worked because an understanding had been developed on all sides.
About 6,000 Apprentice Boys, 146 bands and thousands of their supporters took part in the demonstration on Saturday afternoon.
They marched a one mile route around the city's historic walls and laid a wreath at the war memorial in the Diamond.
Inspector McKeown said: "The atmosphere has been good, people have been happy, people have felt welcomed in the city, that's spectators and participants alike.
"Everything has gone off well".
The inspector was asked about the atmosphere of the Derry parade, compared to the violence seen the night before in Belfast, when more than 50 police officers were injured during loyalist protests against a republican anti-internment march.
'Successful'
The PSNI officer said: "There isn't one template if you like, that fits all and it's very hard to talk about other areas, but certainly I know that from here, people are working tremendously hard not only today, but behind the scenes, to make this a very peaceful parade.
"What has just happened is very much the fruit of their labours."
Mr Brownlee, who led the wreath-laying ceremony, said: "I'm not going to dictate as to what other areas should do. We're concentrating on what we do here."
"What we do here is good, what we do here has been successful, and we don't want to rock any boats."
Following a religious service in St Columb's Cathedral, there was re-enactment of the Siege of Derry in a pageant near Craigavon Bridge.
The event commemorates the ending of the Siege of Derry in August 1689, when 13 young apprentices who were supporters of the Protestant King William III, closed the gates of the walled city to stop the advancing forces of the Catholic King James II's army.