Business survey hints at economic growth in Northern Ireland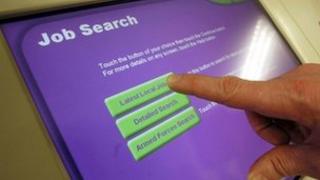 A survey of businesses has suggested that the Northern Ireland private sector may be seeing the first signs of significant growth since the economic crisis began six years ago.
The Purchasing Managers Index (PMI) is a monthly survey of a panel of companies.
It tracks indicators such as new orders and employment.
It shows NI business activity returned to expansion in July, ending a five-and-a-half year period without growth.
The rate of expansion was substantial, boosted by a marked acceleration of new order growth.
The survey, which is produced by Ulster Bank, also points to increased staffing levels as firms take on more people to meet rising demand for their products.
Richard Ramsey, the bank's chief economist in Northern Ireland, said the region's economy had "experienced something of a heatwave in July".
He added: "Local firms saw business activity increase at its fastest rate in 70 months, with all sectors of the economy experiencing robust rates of growth.
"The surge in new business orders in July suggests business activity should remain buoyant in the near term.
"Export orders also increased for the first time since January 2008."
The figures follow a flurry of positive economic indicators for the UK as a whole, which have led to some economists increasing their growth forecasts.
However, Mr Ramsey said it was important not to get carried away.
"Like economies elsewhere, Northern Ireland requires a sustained period of growth over the months and years ahead," he added.
Unemployment figures released later this week should give a further indication of how the Northern Ireland economy is performing.