£3.6m lottery funding to tackle alcohol misuse in Northern Ireland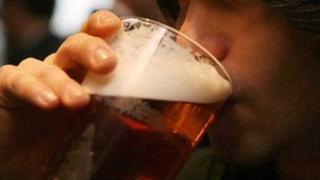 Lottery grants totalling £3.6m have been awarded to four organisations to help tackle alcohol abuse in four different settings in Northern Ireland.
It will be used to address alcoholism in family homes, in the workplace, in prisons and among homeless people.
The grants have been awarded to ASCERT, Addiction NI, Opportunity Youth, First Housing Aid and Support Services.
The Big Lottery Fund said NI had a higher proportion of alcohol-related deaths than the rest of the UK.
The fund has awarded £999,662 to ASCERT (Action on Substances through Community Education and Related Training) to tackle alcohol misuse among parents.
It has given a similar amount (£999,323) to Opportunity Youth, to support its work with prisoners with alcohol problems who are about to be released from custody.
'Taboo subject'
First Housing Aid and Support Services has been awarded £939,200 to help homeless alcoholics.
Addiction NI has received a grant of £667,511 to work with employers to address alcohol related issues in the workplace.
Thelma Abernethy, Director of Addiction NI, said alcohol in the workplace was something of a taboo subject but one that should be addressed.
"Alcohol misuse leads to employees coming into work in poor form, hung over, which can cause a reduction in productivity and increase risk of accidents in the work place," she said.
She said Addiction NI would be working with employers and other organisations to "help develop and shape alcohol support services within the workplace on an ongoing basis".
One of the employers taking part in the initiative is LBM, a contact centre in Springvale business park, west Belfast.
LBM's general manager Martin McCreight said: "Belfast is a young and vibrant city and plenty of people here enjoy the 'craic' - often this is associated with alcohol consumption.
"However, we are aware that some of our employees or members of their family may have issues with alcohol and we want to help them in any way we can."
The Big Lottery Fund's NI director, Joanne McDowell, said; "Northern Ireland has a higher proportion of adults who exceed their recommended daily limit for alcohol than in the rest of the UK, and alcohol related deaths in Northern Ireland are higher for both men and women.
"So we are delighted that the grants we have announced today will deal with the issues caused by alcohol misuse in communities across Northern Ireland."