Fracking: NI environment minister clashes with David Cameron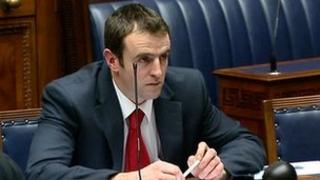 Northern Ireland's environment minister has clashed with Prime Minister David Cameron over his support for fracking.
Mark H Durkan had said it would be "reckless and irresponsible" to agree to fracking, until all the scientific evidence had been properly assessed.
The environment minister was speaking a day after Mr Cameron urged the UK to support the controversial method of extracting gas from underground rock.
Mr Durkan said he would make decisions on fracking in NI, not Mr Cameron.
'Earth tremors'
Fracking - an abbreviation for "hydraulic fracturing" - involves drilling deep underground and releasing a high-pressure mix of water, sand and chemicals to crack rocks and release shale gas stored inside.
Supporters say it is safe and argue it is essential to make the UK more energy self-sufficient, but critics fear it can cause small earth tremors, water contamination and environmental damage.
On Monday, the prime minister called on the UK public to support fracking. In an article written for the Daily Telegraph, Mr Cameron said it would create British jobs and drive down the cost of household energy bills.
In a statement on Tuesday, Mr Durkan said fracking could not take place in Northern Ireland without his say so.
'Safety'
He said: "At present there is no planning application for fracking in Northern Ireland. If and when any application comes in, it will be for me to decide, not David Cameron.
"I am not going to make any decision until all the facts and scientific evidence are established. To do otherwise would be reckless and irresponsible," the SDLP minister added.
Mr Durkan was appointed as Northern Ireland environment minister last month, replacing his SDLP colleague Alex Attwood.
His comments on fracking were welcomed by Friends of the Earth Northern Ireland.
Campaign Declan Allison, from the organisation, said: "Mr Durkan's measured comments are in stark contrast to the 'drill baby drill' attitude of the prime minister.
"The questions the minister asks about safety and energy policy are the right ones, but sadly David Cameron's mind seems to be closed."
'Green romantics'
However, the DUP's Sammy Wilson, who is both a former Stormont environment minister and finance minister, said Northern Ireland must not "lose out" on the opportunities and tax incentives provided by fracking.
Mr Wilson said: "I am concerned that Northern Ireland's new planning minister shares the same short-sighted, green-tinted views of his predecessor on this issue and it is important that we do not introduce planning restrictions which prevent energy firms from looking at Northern Ireland as a potential source of shale gas.
"It will be the ultimate irony for an area with the highest energy prices in the United Kingdom to turn its back on the opportunities to obtain cheaper gas and create thousands of jobs because of the views of an anti-development, anti-growth group of green romantics who think that we can generate our energy by ruining the countryside with 300ft wind turbines."