Illegal Viagra seized from adult shops in Belfast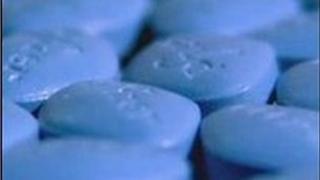 More than 5,000 illegal Viagra tablets worth £25,000 have been seized from several adult shops in Belfast.
They were seized by medicines enforcement officials accompanied by police officers on Tuesday.
It is part of a crackdown on the sale of illegal sex drugs on the high street.
The operation is part of an ongoing investigation by the Department of Health into the retail supply of unlicensed medicines.
The Department of Health said the erectile dysfunction pills were on open sale in the shops.
Peter Moore, senior medicines enforcement officer with the medicines regulatory group of the Department of Health, Social Services and Public Safety Northern Ireland, said: "These seizures demonstrate that we are committed to pursuing those involved in the illicit supply of prescription medicines and taking action to ensure the public is protected.
"If you buy a medicine from unregulated High Street sources like these, you very well may be receiving a product that is unlicensed, fake or could react adversely with any other medication you take.
"My advice to the public is that they should speak to their GP or pharmacist who can advise them on the best treatment for their condition. Only healthcare professionals can take into account risks and benefits associated with every medicine."
Prof Mike Mawhinney, head of the medicines regulatory group, said: "The department has made it very clear that it will continue to be vigilant and proactive in the regulation of medicines in Northern Ireland and these seizures show our determination to stop this kind of illegal activity."