What now for Maze site?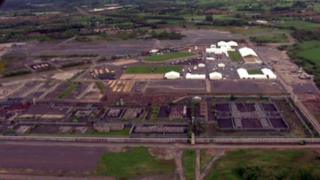 The under-threat Maze peace centre - designed by world-famous architect Daniel Libeskind - was trumpeted as the key to unlocking the full jobs and economic potential of the wider 347-acre site near Lisburn.
The Maze/Long Kesh Development Corporation has promised 5,000 permanent jobs on site in an investment totalling £300m.
While the prison remnants and new peace centre comprised around 8% of the overall site, it is seen as crucial in fulfilling its full potential to attract a range of new businesses like health sciences and agri-foods.
In April, at the launch of the corporation's development plan, its chairman Terence Brannigan said the vision was to demonstrate how peace could be consolidated by economic development.
"We will promote the peace centre as a showcase to attract international developers and investors," he said.
Involving New York architect Daniel Libeskind added to the appeal.
His design obtained planning approval in April 2013 and has won £18m funding from Europe.
At the time Mr Libeskind said: "It is truly meaningful to build a hope-filled common ground, to tell individual stories and to do so at Maze/Long Kesh."
The project, to be funded by the European Union's PEACE III Programme, includes the conservation of the H6 prison block, the prison hospital, emergency control building and chapel, alongside the new peace centre.
It is meant to be one of the largest single capital-build investments in peace-building under the current PEACE Programme.
Building work had been expected to begin at the turn of the year, with completion by mid-2015.
But a huge question mark has now been placed over it.