Donegal's Letterkenny hospital opens temporary A&E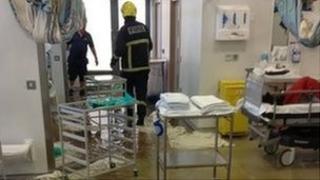 Letterkenny General Hospital is to open a temporary emergency department on Saturday.
The move follows serious flooding in the Donegal hospital three weeks ago when it was forced to close.
Since then, emergency cases have been sent to Sligo, Londonderry and Enniskillen.
The hospital's general manager, Sean Murphy, warned that the move was intended for ambulance admissions only and people "should not self-present".