Northern Irish prisoner vows to help Michaella McCollum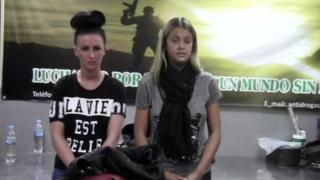 A Northern Irish woman who has been in a jail in Peru for the last two years for smuggling drugs has said she will try to help Michaella McCollum.
Ms McCollum, from Dungannon and Melissa Reid, from Lenzie near Glasgow, both 20, are accused of trying to smuggle £1.5m worth of cocaine.
Lillian Allen, 48, was sentenced to eight years for drug trafficking and is currently in Ancon Dos prison.
The modern prison is an hour north of the Peruvian capital
It houses more than 300 foreign prisoners, most of whom are European.
Ms Allen is familiar with the situation Michaela McCollum and Melissa Reid find themselves in.
They have said they were forced to smuggle drugs at gunpoint by a gang.
Ms Allen recalled her own arrest as she tried to board a plane out of Peru. She did not realise it at the time, she said, but she was acting as a drug mule.
"I came here to meet someone and he asked me to take some bags back for his brother," she said.
"I looked at the bags he gave me and they were just normal handbags, children's schoolbags. I never saw anything inside."
Stitched into the lining, however, was about 8kg (17lb) of cocaine. When Lillian reached the departure gate, the authorities stopped her in her tracks.
Ms Allen said she had little confidence in the Peruvian justice system.
"She (Ms McCollum) says she's innocent, she can't prove her innocence, not in this country," she told the BBC.
"I have never proved I'm innocent, you can't, you have to say you're guilty to get a shorter sentence."
The 48-year-old said foreign prisoners looked out for each other.
"We try to stay together, but you go through a lot, you go through a lot here," she said.
"I always said I never wanted another girl to come in here from my country.
"She's young, she's only a little girl. She could be my daughter, she's younger than my sons."
"I will help her."