Green light for £12m forensic laboratory in Carrickfergus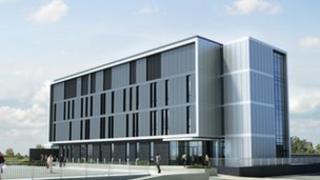 Planning approval has been granted for a £12m forensic science laboratory in Carrickfergus, County Antrim.
The building, which will cater for DNA processing and evidence recovery facilities, will be located at the current site of Forensic Science Northern Ireland (FSNI) at Seapark.
The Department of the Environment (DoE) consulted with Carrickfergus Borough Council on 8 August.
The council raised no objections to the proposal.
Environment Minister Mark H Durkan has described the project as a "major economic boost for east Antrim".
"This facility will bring significant investment to the Carrickfergus area and construction jobs in the short term," he said.
Justice Minister David Ford said he welcomed the decision to grant planning approval for the new laboratory.
"I am committed to delivering a faster, fairer justice system and FSNI has a vital role in that," he added.
"The £12m investment which I have allocated will help FSNI to respond to the ever changing demands of forensic science, ensuring the provision of a state-of-the-art, fully accredited service to meet the needs of the wider criminal justice system in Northern Ireland."