Belfast health trust admits breaching health and safety laws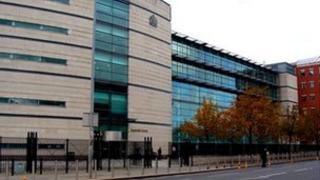 Belfast Health and Social Care Trust has pleaded guilty to two offences relating to breaches of health and safety legislation.
At Belfast Crown Court, the trust admitted failing to ensure the health and safety of employees and failing to protect non-staff on 28 February 2011.
Two further offences relating to the management and control of asbestos in January and February were "left on the books".
The trust will be sentenced next month.
No facts about the case were discussed in court on Tuesday and the sentence to be imposed will be limited to a fine.
In a statement to the BBC, a spokeswoman for Belfast Health and Social Care Trust said: "The trust continues to manage remaining asbestos safely so as to not to pose any risk to patients, staff or visitors using our buildings.
"Our priority is to ensure that any potential exposure risk is alleviated."
Potentially lethal
It is second time in the space of six months that the trust has been before the courts for breaching the health and safety regulations.
Last March, the trust was fined £10,000 and ordered to pay £1,750 in costs for offences relating to the disposal of potentially lethal asbestos when, on 14 January 2011, three construction workers were exposed to asbestos while repairing a floor at Belfast City Hospital.
The court heard, at that time, that a section of ceiling had to be removed to gain access to the floor above but that it was constructed of asbestos insulation board.
The hearing was told that while Belfast City Hospital was known to to contain asbestos following a survey, that information had not been passed onto maintenance contractors.