BBC Proms in the Park: Katherine Jenkins headlines Belfast event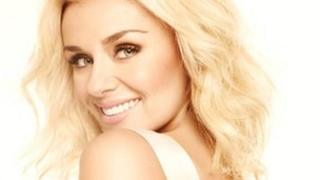 Welsh soprano Katherine Jenkins is to take centre stage at this year's BBC Proms in the Park in Belfast next month.
The multi platinum-selling singer will headline the event at Titanic Slipways on 7 September.
Katherine said: "The Last Night of the Proms holds many special memories for me having performed at the Hyde Park concert and Welsh Proms in the Park.
"I'm thrilled that I will now be adding Belfast to the list."
Included in the line-up is Londonderry singer/songwriter Phil Coulter.
Lithuanian accordion player Martynas, who recently topped the classical music album chart, will also be performing.
Violinist Chloe Hanslip will perform alongside the Ulster Orchestra under the baton of conductor David Brophy.
The proms audiences will be given a sneak preview of a section of new music and dance spectacular, Heartbeat of Home, from the producers of Riverdance.
It is due for its world premiere in Dublin later this year.
BBC Proms in the Park in Northern Ireland is now in its 12th year.
The event this year, supported by Belfast City Council, is part of the BBC's prestigious Last Night of the Proms celebrations across England, Northern Ireland, Scotland and Wales to mark the end of the world's largest classical music festival.
Peter Johnston, director BBC Northern Ireland, said: "Following on from the success of last year we are very excited to bring the 2013 BBC Proms in the Park in Northern Ireland back again to Belfast and to the Titanic Slipways.
"This event is one of the most prestigious and large-scale events we undertake each year and music lovers can be assured of a very special evening of music and celebration from an eclectic line-up of local and international talent, all set against the stunning backdrop of the Titanic Signature building."
BBC Proms In the Park in Northern Ireland will be hosted by Noel Thompson and Claire McCollum.
It will be broadcast live on BBC Radio Ulster 92-95FM & 1341MW, and on DAB Radio, presented by John Toal.
The entire Belfast Prom will also be available live online at bbc.co.uk/proms.
Extracts from all four Proms in the Park concerts will be available on 7 September via the Red Button for BBC viewers on digital television.
Elements of the Titanic Slipways live prom will also feature on the BBC network programme on the evening.
A special highlights programme will be broadcast on BBC Northern Ireland television and BBC Four at a later date.
More information is available at the BBC Proms in the Park website at BBC Proms In The Park.