RSPB fears Red Kites are being poisoned in Northern Ireland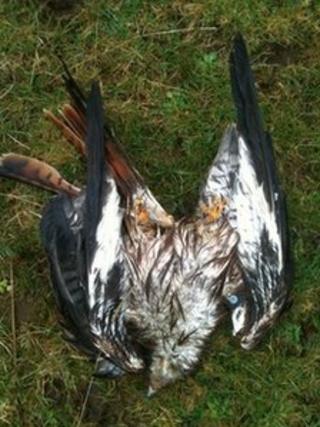 An animal charity fears that rare birds of prey are being poisoned in Northern Ireland.
The Royal Society for the Protection of Birds (RSPB) has appealed for information after four Red Kites have been found dead so far this year.
The most recent discovery was in Castlewellan, County Down, on 14 August.
Adam McClure, Red Kite officer for the RSPB, said: "We suspect that the birds did not die of natural causes."
The four dead birds represent 30% of the breeding Red Kite population in Northern Ireland.
The body of the bird discovered last week has been sent to the agri-food and biosciences institute for a post-mortem examination.
However, the charity suspects all four birds were poisoned.
Mr McClure said: "We do not know what caused the deaths of these four birds as yet and are eagerly awaiting the post-mortem results dating back as far as January.
"All birds of prey are protected under the law, but unfortunately this doesn't always mean that they are safe from poison.
Chicks perished
"In some cases, they are deliberately targeted as some people incorrectly see them as a threat to their livestock or game birds.
"They may also ingest the poison by eating dead mice or rats that have been killed by rodenticides."
Of the four dead birds, two were breeding males, one was a breeding female and one was a juvenile.
The female was found dead in the nest where she was incubating two eggs, meaning the chicks inside also perished.
Red Kites were once common in Ireland but were persecuted to extinction in the 18th Century.
In 2008, the RSPB began a reintroduction project that has been successful in encouraging the birds to breed in Northern Ireland.
Emma Meredith, the Police Service of Northern Ireland (PSNI) wildlife liaison officer, said: "Police take wildlife crime seriously and if it is found that there is a breach in the legislation then they will investigate.
"Currently police have requested tests on the birds reported to identify the cause of death."