Funding for 100 extra masters courses to fill IT skills gap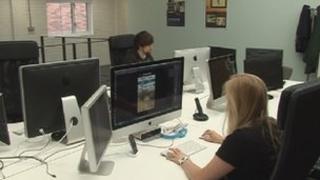 An extra 100 places on masters courses in science, technology, engineering and maths (STEM) at Northern Ireland's universities have been created.
It follows funding from the Department of Employment and Learning (DEL).
The investment is aimed at improving the skills of graduates to meet the needs of local employers and support economic growth.
There is currently a high demand for computer science graduates across Northern Ireland.
While thousands hold posts in large international companies many small indigenous firms struggle to fill posts.
Origin Partners, based in Holywood, County Down, told the BBC last month that it had taken them a year to fill three positions.
The University of Ulster will have room for an additional 70 students, 40 of which will be based in computational intelligence at its Magee campus in Londonderry.
The other 30 spaces will complement the Msc in advanced composites and polymers, and Msc biomedical engineering.
'Highly-skilled graduates'
"The courses draw extensively from the faculty's internationally recognised research in computer science and engineering to ensure that the students are equipped with highly sought-after expertise," said Prof Richard Millar from the University of Ulster.
"These valuable scholarships will cover the university's fee for these one-year masters degrees."
Queen's University in Belfast will receive funding for 30 places in courses including biological sciences, electrical engineering and computer science.
"As part of Queen's role as a key driver of growth, the additional places announced today will enable the university to continue to strengthen local industry through the provision of an increased pool of highly-skilled graduates in STEM-related sectors," said Prof Tony Gallagher from the university.
The latest figures show that more than 8,500 people work in the computing industry in Northern Ireland.
"I am committed to the continuing expansion of higher education to give Northern Ireland the skills profile required to compete globally," said DEL minister, Stephen Farry.
"One of the goals of the strategy is to increase the proportion of those leaving from our higher education institutions with graduate and post-graduate level qualifications in STEM subjects."
The number of university places in STEM subjects had already increased by 1,200 before the additional places were announced.