Kevin McDaid murder witness fails in prison release bid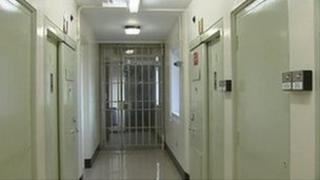 A Coleraine man who is a key witness in a sectarian murder trial has failed in a bid to be released from Maghaberry prison.
Peter Neill, who is currently on remand on drugs charges, claims he is at risk from loyalist prisoners.
His lawyer told the High Court that he would feel safer at his own house where he is on a home security scheme.
He is due to give evidence against a number of defendants charged in connection with Kevin McDaid's murder.
Mr McDaid, a father-of-four, was beaten by a loyalist gang yards from his home in the Heights area of Coleraine.
Mr Neill, who is a cousin of Mr McDaid, is due to give to evidence soon at a preliminary hearing against the men accused of offences related to the community worker's murder in May 2009.
The 45-year-old was arrested in February by police investigating the discovery of £50,000 worth of class B drugs in the Mallusk area of Newtownabbey.
The court heard the methadone had been shipped into Northern Ireland from China via a courier service.
Mr Neill denies a charge of attempted possession of the drugs with intent to supply.
He was refused bail in May but during a second application on Wednesday his lawyer told the court there had been two changes in Mr Neill's circumstances.
The lawyer said Mr Neill feared publicity over his upcoming appearance as a witness could expose him to danger in Maghaberry especially as a large number of loyalist rioters were currently held there.
The lawyer who said the drugs case against Neill was "weak and circumstantial" added that his client would feel more secure and have more peace of mind at his own home because he had no control over who he passed as he went about his business in the jail.
Mr Neill's lawyer also told the court that Mr McDaid's widow, Evelyn, was anxious that Mr Neill should be freed so that he could be with her as she went to the court proceedings.
A prosecution lawyer objected to bail, saying there was a risk that Mr Neill would re-offend, a claim denied by his defence lawyer.
Mr Justice Treacy refused bail, saying he had no reason to believe that the Prison Service would not discharge their duty of care to Mr Neill at Maghaberry.
The judge also rejected an application for Mr Neill to be granted anonymity.