Belfast screening for World Trade Center documentary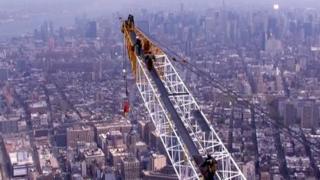 A documentary by a Belfast film-maker about the rebuilding of the World Trade Center in New York is to be broadcast on Channel Four next month.
Marcus Robinson spent seven years documenting the reconstruction of the building brought down in the terrorist attacks on 11 September 2001.
There was a special screening of the programme in Belfast on Wednesday.
Mr Robinson said he wanted the documentary to be about more than just the construction process.
"The original vision was to make something that would be about more than just a documentary about the rebuilding, it would be something that would be more like an allegorical tale about the human spirit," he said.
"On the site there are people from all around the world who are involved in the construction process.
"So on one level the site itself is like a microcosm of the bigger city of New York and reflects the diversity of New York city.
"The film is also a reflection of that."