Big fall in plastic bag use in Northern Ireland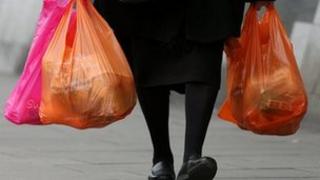 Plastic bag use in Northern Ireland may have fallen by more than 80% since the introduction of a levy earlier this year.
Provisional government figures indicate that 17.5 million single-use carrier bags were dispensed by retailers between 8 April and 30 June.
It is estimated that 300 million carrier bags were used in NI in 2012.
Environment Minister Mark H Durkan said: "This is great news for the environment."
Figures from several major supermarkets suggest a possible annual reduction of more than 80% in those stores.
Due to factors such as seasonal variation, the Department of the Environment (DoE) is reluctant to use the data for a single quarter as a basis on which to predict the likely annual reduction for the entire retail sector.
'Willingness'
It intends to produce statistics after the first full year of operation.
Mr Durkan said: "Our streets and hedgerows, our fields and parks, should no longer be places strewn with discarded bags.
"In many ways the public are ahead of government here, showing a great appetite for this legislation to be introduced.
"I commend people for their responsible attitude and willingness to come on board. They are making a personal contribution to addressing the threat of climate change and environmental damage. I very much urge them to keep up the momentum - keep reusing bags."
Under the new legislation which came into effect in April, retailers are required to charge at least 5p for each single-use carrier bag supplied new to customers and pay the net proceeds of the levy to the DoE.
The first online returns from retailers to the DoE for the months April, May and June were submitted in July.