Cash boost for coastal communities in Northern Ireland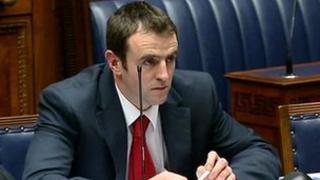 Seaside towns across Northern Ireland are being invited to bid for money from a £600,000 improvement fund.
It is part of £29m available across the UK from the Coastal Communities Fund (CCF) which aims to boost deprived areas.
It is funded by revenue from offshore wind farms, tidal power and other marine activity.
Environment Minister Mark H Durkan has urged relevant organisations to start preparing their bids.
Since the CCF began in 2012, £950,000 has been made available to coastal communities in Northern Ireland.
In 2012/13 £450,000 was awarded for projects in Glenarm and Magheramorne.
The remainder of that money (£500,000) will be awarded for 2013/14 in December.
The scheme has now been extended by a year to 2014/15 when the additional £600,000 will be allocated, with nominations opening next spring.
'Unlock potential'
Mr Durkan said the successful bids for funding would be for "creative and innovative projects that will tap into new business opportunities, create jobs and provide training and new skills that will benefit the whole community".
"I urge our coastal communities to start getting their bids ready now so that they are ready when nominations open next spring," he said.
"Being prepared will give the best chance to get a share from this £600,000 pot for initiatives that will be a real boost for local projects in their community and unlock the potential of our coastal towns and villages."
Grants of over £50,000 will be available for projects lasting up to two years.
Organisations that can apply include charities; voluntary and community sector organisations; social enterprises, including cooperatives and community ownership initiatives; local councils; development agencies and private sector companies.
The CCF is financed by the government through the allocation of funding equivalent to 50% of the revenues from the Crown Estate's marine activities.
Rising revenues have meant increased money for the UK's coasts "to combat economic decline and create opportunities for people".
"It is right that revenues raised in Northern Ireland are used to help communities realise their economic potential," Mr Durkan added.
"It is encouraging to see this support for our much-loved seaside towns along our coast."
The Department of the Environment said successful bids to the CCF are chosen "because of their impact on local jobs, training and their ability to drive forward growth".