Police: Belfast gun find 'largest in recent years'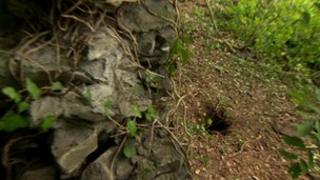 Police have described the discovery of guns and ammunition in east Belfast as the "largest find" in recent years.
Sixteen handguns and more than 800 rounds of ammunition were found hidden on National Trust land at Lisnabreeny Walk close to the Manse Road.
It is unclear whether the weapons, which were modern semi-automatic handguns, belonged to a paramilitary organisation or a criminal gang.
The weapons have been taken away for examination.
They were discovered as a result of a security alert which began on Friday evening in the Four Winds area of Castlereagh.
PSNI Det Supt Glen Wright said: "The recovery of these weapons has undoubtedly thwarted the attempts of criminals to inflict death, injury and misery on the community.
"Police are determined to work to protect communities from these threats and I would appeal to anyone who noticed any suspicious activity in the area of Glencregagh Road at the junction with Manse Road, known locally as Cregagh Glen, Castlereagh, to contact them on 0845 600 8000."
DUP assembly member Jimmy Spratt said the weapons find was concerning as it was close to a school.
"In this area there are a lot children and a lot of people," he said.
"Thankfully, Lagan College has been off for the last two months. "
He said that in term time there would have been a significant number of pupils around the area from the school.