Blast 106 student radio station 'in breach of licence'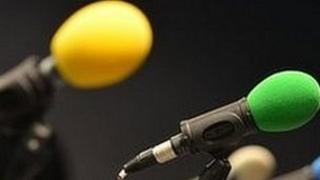 A Belfast-based radio station has been found to be in breach of its licence by the communications watchdog, Ofcom.
Blast 106, which was set up to serve students living in the greater Belfast area, failed to meet some of its "key commitments," the regulator said.
An Ofcom investigation concluded the station played too much chart music and failed to provide its audience with the agreed amount of speech content.
The station was launched in July 2009. It is staffed and run by volunteers.
As part of its investigation, the regulator requested recordings of Blast 106's output, and monitored its programmes across five days last winter.
The Ofcom report said: "During the three days in January 2013 and two days in November 2012 when we monitored output, we heard no local student news, coverage of student sports events, documentaries, or coverage of student politics."
'Difficulty'
The report also said there had been "no references to either of the two local universities or the local college during the 40 hour period monitored".
The station had agreed to provide output that would typically comprise 90% music and 10% speech during the daytime, rising over time to 80% music, 20% speech.
Other key commitments listed in the terms of Blast 106's community radio licence included coverage of local student news and student sports events, and "varied" music output.
When Ofcom monitored the station in January 2013, it found that speech content between the hours of 06:00 GMT and 19:00 GMT amounted to only 7.6% of overall output.
However, Blast 106 operators said the 06:00 GMT daytime start was more relevant to commercial radio stations, which attract listeners travelling to and from work.
'Youth-appeal'
In its communications with Ofcom, Blast 106's operators said they had "experienced difficulty in recruiting a volunteer presenter for a three-hour period each afternoon and, as a result, the programme broadcast daily between 13:00 and 16:00 was pre-recorded and had little or no speech content".
The station accepted that some of its programmes contained more chart music than others but pointed out that if its volunteers and community wanted 24 hour chart music, then that is what it would have to provide.
Ofcom said the requirement to play varied music did not mean that it expected Blast 106 to broadcast "older-leaning genres" such as easy listening, classical, gold pop or classic rock.
However, the regulator said they "would expect to hear a variety of genres that have youth-appeal such as those outlined in Blast's licence application, e.g. indie rock, electronica, R&D, drum n' bass".
No-one from Blast 106 was available for comment on Tuesday.