Further disruption for residents near mortar find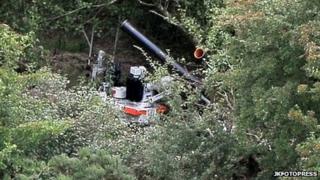 People living in the vicinity of a mortar find in County Armagh are expected to be out of their homes for a second night.
Police found what they described as a "mortar-type device" near the village of Cullyhanna.
It was discovered during a major security operation that began on Tuesday.
A controlled explosion was carried out at the scene shortly before 13:00 GMT on Wednesday.
Army technical officers are continuing to examine the device and make it safe, a PSNI spokesman said.
Houses on the Sheetrim Road, outside Cullyhanna, were evacuated on Tuesday night.
There is a large security presence in the area, including a police helicopter, and searches are continuing.
Army technical officers have been using sniffer dogs and metal detectors to search hedges and culverts.
'Sinister elements'
A number of roads near the village have been closed for periods during the alert.
On Tuesday morning, the Bog Road and Lisleitrim Road were closed to traffic but both were reopened later in the day.
On Tuesday evening, the Sheetrim Road was closed at its junction with the Bog Road and Kiltybane Road.
Sinn Féin's Colman Burns said 11 families had to leave their homes on Sheetrim Road on Tuesday night and most had stayed with relatives in the area.
Ulster Unionist MLA Danny Kennedy, who represents Newry and Armagh, said he was "concerned at both the capability and the intent of those sinister elements behind this attack".
'Palpable anger'
"Once again the local community has cause to thank the police and Army for their diligent work to protect local people from harm.
"Their selfless actions are in total contrast to the actions of those whose twisted philosophy motivated them to leave explosive devices at the side of a public road, no doubt in a bid to murder members of the security forces," Mr Kennedy added.
SDLP MLA for the area, Dominic Bradley, said those responsible were "reckless" and added that there was "palpable anger" in the local community.
"The people of Cullyhanna, South Armagh and indeed the people of this island want to be left in peace. Instead those responsible still live in some warped existence of the past," Mr Bradley said.