Sinn Féin call for lord mayor motion following trouble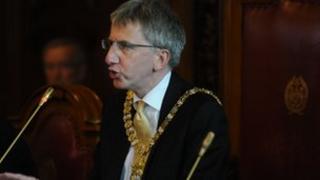 Sinn Féin are to put a motion before Belfast City Council affirming "the right of the lord mayor to attend events and carry out civic duties in any parts of the city".
There was trouble last month during a visit by the Lord Mayor, Sinn Féin's Máirtín Ó Muilleoir, to Woodvale Park.
The mayor was attacked by loyalist protesters at the event. Nine police officers were injured.
However, the DUP said that they intend to table an amendment to the motion.
The Sinn Féin motion will be presented at the full council meeting on Monday 2 September.
It calls on members of the council to oppose "any use or threat of force for political purposes and reiterate our support for the exercise of the democratic right to peaceful protest".
The motion condemns "the attack on the lord mayor and the PSNI and the treatment of council staff during the incident at Woodvale Park and extend to them all the support of this council for their work on behalf of the citizens of this great city".
Speaking on BBC Radio Ulster's Good Morning Ulster programme, Sinn Féin councillor Conor Maskey denied that the motion was provocative.
"We want to restore some semblance of sanity, some semblance of leadership.
"Whatever our differences we need to navigate our way through this in a peaceful fashion."
In a statement in response, the DUP said that, by focusing on one event, the motion involved "political points scoring and one-upmanship
"Neither will serve the city well," it added.
They also said that the party "recognises that there were a range of events over the summer months in our city that everyone should reflect upon.
"It is vital we tackle this negative cycle and provide a better present and successful future for our citizens."
All parties will get a chance to discuss and vote on the motion, and any amendments, at the full council meeting on Monday.