Opportunistic Belfast car hijacker jailed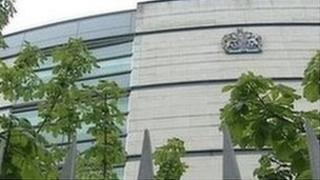 A Belfast heroin addict who "opportunistically" hijacked a car has been sentenced to two years imprisonment.
James Loughran of Navan Street was ordered to spend one year of the sentence in prison and one on licence.
Belfast Crown Court heard that Loughran had jumped into a car in Union Street and ordered the woman passenger out.
Another man got into the car, which had its engine running, and they sped off. The car was later recovered undamaged.
The judge said that while the incident may have been unplanned, the offence "was clearly a traumatic and distressing experience for the lone female victim".
Loughran was arrested after his DNA profile was uncovered in a baseball cap he had left behind in the stolen car.
'Remembered little'
He later pleaded guilty to hijacking and driving while disqualified.
A Crown lawyer said that while there was no violence used in the hijacking, Loughran's "substantial" criminal record of 89 offences, including convictions for robbery, serious assault and 37 driving offences aggravated the offence.
A defence lawyer said Loughran remembered very little of the incident as he had been drinking and taking drugs at the time.
He said Loughran was taking steps in an effort to deal with his drug and heroin addictions.
Passing sentence, the judge said it was an opportunistic hijacking, but "nevertheless it is a serious offence for which only a custodial sentence is appropriate".
Banning Loughran from driving for five years, he said it was essential that victims did not have to endure the actions "of the likes of this defendant who seek to take advantage of their vulnerability".