PUP discuss strategies for council and European elections
By Martina Purdy
BBC NI Political Correspondent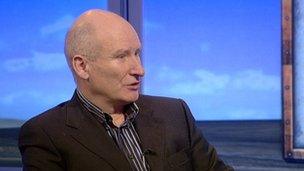 The PUP leader Billy Hutchinson has said his party will stand for the European election - as well as targeting councils seats next year.
Mr Hutchinson said he will stand for council and will decide in the next month between Belfast and South Antrim.
He also said he intended to stand in South Antrim at the next Westminster election.
Mr Hutchinson said he had been working on the ground building support in South Antrim.
"I've made my mind up," he said.
"I will be standing in the general election in South Antrim in 2015."
While he ruled out personally standing for Europe, he said the party had a short-list of candidates for the European poll and it was up to the PUP's executive and council to make the final selection.
Next year's council elections are to 11 new super-councils.
The PUP leader said council candidates were expected to be selected by the end of September and that the PUP would be targeting seats in areas such as Belfast, North Antrim, South Antrim, East Antrim, Foyle and Portadown.
He said all PUP candidates standing for Belfast would sign a public pledge to work to get the union flag back up over Belfast City Hall.
But he added that new council boundaries would pose challenges: "Belfast will be green and Castlereagh and Lisburn will be Orange."
The PUP currently have two councillors in Belfast city council - Mr Hutchinson previously held a seat there for Oldpark.
He said the PUP was in favour of the European Union but not in favour of the UK joining a euro-zone. He said issues in Europe included access to EU funding and immigration.