Man dies after car crash at shop in east Belfast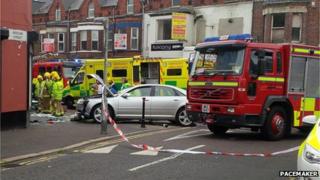 A 47-year-old man has died after a car crashed outside a charity shop in east Belfast.
The incident, which left three people injured, happened about 12:00 BST on the Woodstock Road.
It is understood a car came off the road and hit two pedestrians and a woman on a mobility scooter.
The police said the man who died had been driving the car. His death is not thought to have been as a result of the crash, but due to a medical condition.
The Woodstock Road has now been reopened.
"When the crews arrived they found that the driver of the car had suffered some kind of cardiac episode and lost control of the car and veered onto the footpath," said John McPoland from the ambulance service.
"On the footpath there was a lady in a mobility scooter talking to two pedestrians. Unfortunately, the car ploughed into the three of them.
"It put one of the pedestrians through the shop front but he was able to get himself out of that."
Michael Chandler witnessed the incident and said it was a frightening experience.
"It was the crash we heard first of all. It appears a car has come out of the road on the other side of the street and lost control," he said.
"There are a lot of kids about and a lot of upset people who saw what happened exactly and know the people involved. it was quite scary to be honest."