Cullyhanna mortar find: Police say plan was to kill officers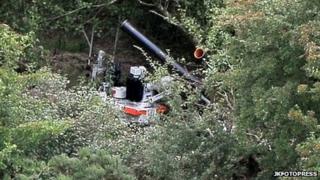 Police have said two mortar-type devices found in south Armagh on Tuesday were placed with the intention of killing officers.
A security alert is continuing in Cullyhanna as police and army bomb experts work to make the devices safe.
All families moved from their homes, except one, have been been allowed to return.
Ch Insp Davy Beck said the devices were known to be inaccurate and said the perpetrators were "mindless".
"We know only too well the death and destruction such devices can cause and there is no doubt that the intention of those behind these devices is to kill police officers who serve this community on a daily basis," he said.
"We also know how inaccurate and uncontrollable these type of devices are and to leave them in an area accessible to the public shows the total disregard these people have for the local community in Cullyhanna.
"Their actions can only be described as ruthless and mindless."
A controlled explosion was carried out at the scene shortly before 13:00 GMT on Wednesday.
There is still a security presence in the area. Army bomb disposal experts have been using sniffer dogs and metal detectors to search hedges and culverts.
'Very sinister'
Justice Minister David Ford condemned those who planted the devices.
He said: "Those who planted these devices had death on their minds. Their reckless and murderous actions contrast with those of the police and bomb disposal team who have been working to protect the local community.
"I regret the disruption to those forced to move out of their homes, but it is clear who has caused that."
Policing Board Chair Anne Connolly said the discovery was a "very sinister reminder" of the threat faced by police officers.
"The work to clear the scene has been lengthy and thanks go to all those who have been involved in this operation and to local residents for their patience during this time," she said.
"This type of activity is not wanted and police need the assistance of the community to ensure those who would wish to wreak terror do not succeed."
A number of roads near the village have been closed for periods during the alert.
On Tuesday morning, the Bog Road and Lisleitrim Road were closed to traffic but both were reopened later in the day.
On Tuesday evening, the Sheetrim Road was closed at its junction with the Bog Road and Kiltybane Road.