Ulster Farmers Union in rural crime appeal to policing partnerships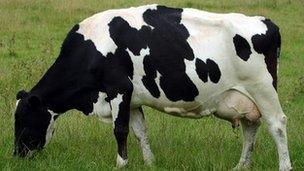 The Ulster Farmers Union (UFU) has written to all of NI's Policing and Community Safety Partnerships (PSCP) to express concern about rural crime.
The UFU said it felt PSCPs could do more to tackle the issue.
It also expressed concern about a possible lack of rural representation on some of the partnerships.
The UFU's Barclay Bell said they wanted to find out more about what actions PCSPs across Northern Ireland were taking to tackle rural crime.
"Farmers are taking the rural crime message seriously and have already gone to great lengths to ensure their livestock, property and belongings are secure," Mr Bell said.
"However, we do feel that PCSPs could be doing more in helping tackle this important issue.
"Our concern with PCSPs is that membership may not fully reflect the needs of that area and we question how a PCSP can respond to local issues if this is the case.
"The UFU believes that in order to fully address the issue of rural crime it is essential that all stakeholders including farmers, rural dwellers, the PSNI and PCSPs, work together on delivering solutions that will benefit local communities."
Insurance firm NFU Mutual has put the estimated cost of rural crime in Northern Ireland in 2012 at £3.4m - a fall of almost 20% on the previous year.