Northern Ireland teenagers urged to sign up for citizen service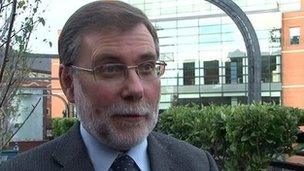 Northern Ireland teenagers aged between 15 and 17 are being encouraged to sign up to National Citizen Service.
Seven hundred places are available on the programmes which will run in the autumn and next summer.
Social Development Minister Nelson McCausland said it was a win-win project for both young people and their communities.
"They can decide for themselves really what sort of activity they want to engage in," Mr McCausland said.
"It could be a community programme for younger children, it could be a tidy-up, it could be a fundraising project - whatever they feel would most benefit their community.
"It's very much up to them, they can use their initiative, they get to meet with other young people, they get a lot of fun out of it, a lot of pleasure, social, personal development and they're putting something back into the community."