Plans submitted to expand pub near Giant's Causeway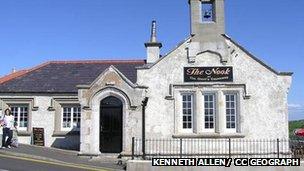 The owners of a pub adjacent to the Giant's Causeway have submitted plans for a major expansion of the premises.
Portnaboe Ltd, which owns The Nook, have applied to erect two new buildings which will provide 10 guest bedrooms.
The planning application claims the development will not have any adverse impact on views towards the Giant's Causeway or on the setting of The Nook, which is a listed building.
It describes the proposed development as "modest".
The application said it had "been designed to respect existing contours and the character of the setting".
It states that the arrangement of the buildings will resemble a "typical farmyard cluster of small scale buildings as was evident at the Giant's Causeway in the 1800s".
The Giant's Causeway is Northern Ireland's only world heritage site and as such any development in the area tends to be controversial.
The application adds that the development is needed to secure the commercial viability of The Nook, which opened in 2001.
It says that in recent years it has not been profitable because high overall costs and a "relatively short tourist season" which means it closes at 18:00 GMT from November to March.
The building is a former schoolhouse which was built in the 1850s.
In 2001, the National Trust objected to the extension and conversion of the building which saw it transformed into the pub.
The Trust, which owns the Giant's Causeway, feared it would set a precedent for commercial development in the area.
It is understood to be aware of the new plans and is studying them.
The director and shareholder of Portnaboe Ltd is Ross Sweeney, son of the prominent north coast developer Seymour Sweeney.