Cullyhanna mortars: Three-day security operation over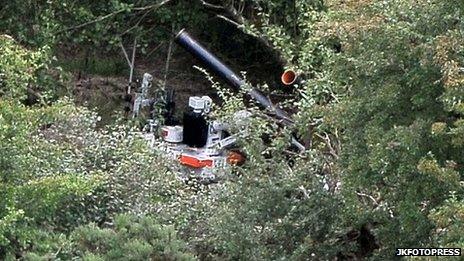 A major security operation in south Armagh has ended following the discovery of two mortar-type devices.
The alert began in Cullyhanna on Tuesday and ended just before 20:30 BST on Thursday.
A number of families were moved from their homes and roads in the area were closed. All roads have now re-opened.
Police said the devices had been intended to kill PSNI officers. Ch Insp Davy Beck said the perpetrators were "mindless".
"We know only too well the death and destruction such devices can cause and there is no doubt that the intention of those behind these devices is to kill police officers who serve this community on a daily basis," he said.
"We also know how inaccurate and uncontrollable these type of devices are and to leave them in an area accessible to the public shows the total disregard these people have for the local community in Cullyhanna.
"Their actions can only be described as ruthless and mindless."
Justice Minister David Ford condemned those who planted the devices.
He said: "Those who planted these devices had death on their minds. Their reckless and murderous actions contrast with those of the police and bomb disposal team who have been working to protect the local community.
"I regret the disruption to those forced to move out of their homes, but it is clear who has caused that."
Policing Board Chair Anne Connolly said the discovery was a "very sinister reminder" of the threat faced by police officers.
"The work to clear the scene has been lengthy and thanks go to all those who have been involved in this operation and to local residents for their patience during this time," she said.
"This type of activity is not wanted and police need the assistance of the community to ensure those who would wish to wreak terror do not succeed."