Cullyhanna mortars: Conor Murphy says area worried and angry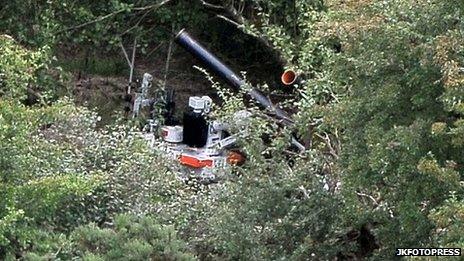 The MP for Newry and South Armagh has said the community in Cullyhanna was put under unnecessary stress for two weeks after mortars were left there.
Two mortar-type devices were found close to the village on Tuesday. However, the initial warning about them was received two weeks ago.
A security operation ended on Thursday night after three days.
MP Conor Murphy said there was a "sense of bewilderment" in the area at the actions of those responsible.
"There was certainly a great degree of worry, because the initial alert for this device came more than two weeks ago and it was very badly worded and very vague so there wasn't a proper opportunity to locate it and deal with it," the Sinn Féin MP said.
"So the people of the area have had two weeks of worry - when kids are off school and playing in fields - that a viable device in their own area. I think there's a sense of relief that this operation is over and nobody has been injured.
"A community was placed under unnecessary stress, police resources were tied up trying to deal with it and the end result is that the community is relieved it has been dealt with, but angry that they were put in that situation."
"Is that just a propaganda exercise? If people were acquiring weapons from a certain area would they go and advertise it," Mr Murphy said.
"If this is much more sophisticated, it hasn't worked. It's not very sophisticated to leave a device in the middle of a field and then phone the Samaritans."
A number of families were moved from their homes and roads in the area were closed during the security operation.
On Thursday, police said the devices had been intended to kill PSNI officers. Ch Insp Davy Beck said the perpetrators were "mindless".
"We know only too well the death and destruction such devices can cause and there is no doubt that the intention of those behind these devices is to kill police officers who serve this community on a daily basis," he said.
"We also know how inaccurate and uncontrollable these type of devices are and to leave them in an area accessible to the public shows the total disregard these people have for the local community in Cullyhanna.
"Their actions can only be described as ruthless and mindless."