Carrickfergus playpark vandalised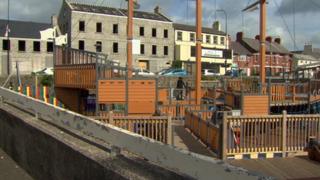 Politicians and community leaders in Carrickfergus have said they are going to ensure that a play park in the town is protected.
It comes after damage, which will cost thousands of pounds to repair, was caused to a new children's facility at Marine Gardens on Thursday.
DUP MLA David Hilditch attended a meeting at the park.
He said there had been a "massive reaction" to the vandalism on social media.
"This facility, which is brand new and a tremendous facility for the community, has been targeted basically by young vandals," he said.
"We've had enough of it over the summer months. There's people now coming together to have a resolution to it hopefully through community-type policing and people on the ground working in the area."